The ultimate web site for GPS Speedsurfing. With more than 4.500 members all over the world who have posted over 84.000 windsurf sessions and traveled more than 3.300.000 km. Advertising, subscription and result service to our event will be supported by www.gps-speedsurfing.com All GPS sessions of our event will be uploaded to this site and with the support of the GPSSS crew the final ranking will be calculated. Without this site the event wouldn't been possible. Thanks a lot !!
MAUI ULTRA FINS has recently become famous by their innovative fin design, which nowawadys a lot of Top-Class windsurfers rely on, among them also Sarah-Quita Offringa and Philip Köster as current World Champions. German engineering design principles rigidiously applied by Rick Hanke brought fin design to a new level. By now MAUI ULTRA FINS offers a comprehensive fin range: Wave, freestyle, freeride, slalom, speed, weed, SUP and surf fins. For our event MAUI ULTRA FINS is supporting us with a number of fins as prizes , but also providing some fins for testing on-site during the event.
The Thalassa Suites are the new luxury apparments designed and built by windsurfers for windsurfers. Directly situated on the spot, beside the famous Anemos Club, Thalassa Suites is setting with its comfortable and luxury appartments a new standard for windsurfers in Karpathos. Thalassa suits has offered as a prize to one of the winners of our event one FREE week of accomodation !! Check out their website www.thalassa-suites.com. Book now and enjoy your stay !!
NETtoSUN is the ultimate web portal for travel bookings around windsurfing. NETtoSUN is directed towards the open-minded, self-dependent traveller whom they support as the Hotel´s Service Team. NETtoSUN takes care of the tedious booking process for you, offer better flight rates, better priced car rental, extensive service and support as well as rental of kiting, windsurfing, golfing and diving equipment. NETtoSun has especially a long experience around the destination Karpathos. Check out their website www.nettosun.de
Aquapac is the leading provider for 100% waterproof cases and bags for all kind of electronic equipment. Aquapac is dedicated to design products that help you to enjoy the great outdoors and which protect your electronic gear – and other valuables – from the elements. Aquapac is committed to best quality and supports our event by providing free Aquapac cases to protect the GPS units and also is offering special conditions in their web shop. Check out their website www.aquapac.net
Meltemi Sport Activities operates with two windsurfing stations on Devils Bay and Chicken Bay on Karpathos, where Meltemi: The Legendary Greek wind provides the best conditions to enjoy windsurfing for all levels. We take up the 25 years tradition of a windsurfing station operated by Chris Schill and have built a place where the windsurfing life happens on Karpathos.
Meltemi windsurfing stations provide everything that each windsurfer needs to make most of this place. Everyone will experience a friendly and welcoming atmosphere and has everything to enjoy windsurfing.
Karpathos is an amazing place where wind, sun and good vibes are delivered every day. Constant and reliable Meltemi wind and flat turquoise blue warm water close to the shore offers the ultimate conditions for windsurfing. Beautiful beaches, amazing mountains all together with typical Greek hospitality and extraordinary cuisine make Karpathos a wonderful place.
Meltemi windsurfing stations are operated by people who are enthusiastic about windsurfing and Karpathos and also willing to provide the ultimate conditions for windsurfing – Catch The Wind & Free Your Mind!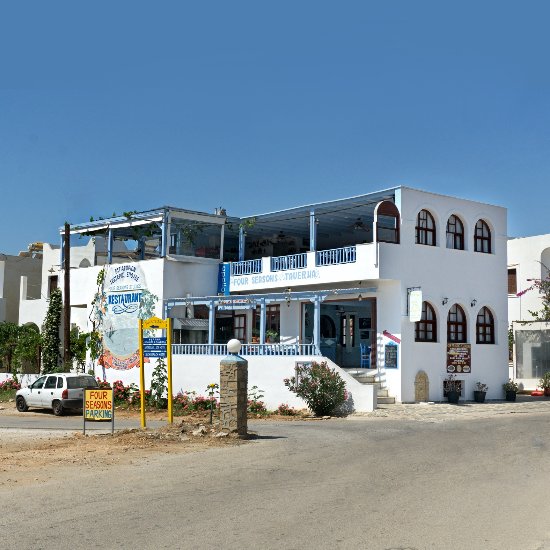 The Four Season Taverna in Amoopi on the island of Karpathos is one of the best restaurants on the island. In this family operated restaurant a wide variety of food is served ranging from traditional greek dishes, to fish, pasta and really great pizzas. Everything is served in a very pleasant environment on a roof-top terrace by very friendly waiters.